Top 10 Pakistan Textile Companies 2023
The textile industry in Pakistan has experienced remarkable growth, driven by the success of top textile companies in the country. With a record high in textile exports during July-April, 2021-2022, amounting to $15.98 billion, Pakistan's textile sector has significantly outperformed the previous year's exports of $12.68 billion, showing an impressive increase of 25.9%.
Here is a list of the top 10 textile mills in Pakistan, contributing substantially to the Pakistani economy and positioning themselves as leading Pakistan textile companies:
1. Style Textile (Pvt) Ltd
Style Textile is a textile industry in Pakistan, they are a textile and apparel manufacturer based in Lahore. They focus on textile innovation, manufacturing, and providing end-to-end apparel solutions to global partners such as Adidas, Hurley, Levi's, Nike, Reebok, and Tom Tailor to name a few. Style Textile Ltd was the largest exporter in 2021, with $429 Million in exports.
They are equipped with state-of-the-art technology producing some of the finest knitted fabrics with the capability to produce a variety of knitted fabrics including jersey, pique, ribs, interlock, thermals, fleece, and many more.
2. Interloop Ltd.
Interloop Limited is a vertically integrated multi-category textile manufacturer in Pakistan that produces hosiery, denim, knitwear & seamless apparel for a multitude of top international brands and retailers.
Interloop is the largest listed textile company on the Pakistan Stock Exchange by market capitalization and is one of the largest exporters in Pakistan. In 2020-21 they were the second largest exporter of Pakistan with $331.54m in exports. Interloop Ltd. employs over 26,000 people and it is a global network with its presence spread across 3 continents, with industrial infrastructure based in Pakistan and Sri Lanka.
They are recognized globally working with many global brands and retailers, they have the annual capacity to produce about 700 million pairs of socks, 12 million pcs of Denim apparel, 15 million pcs of Knitwear, 26 million kgs of yarn, and 1.5 million pcs of seamless activewear with plans to expand even further.
Almost 50% of the company's raw materials are derived from sustainable sources and since 2016 they have increased the use of organic cotton by 400%.
3. Artistic Milliners (Pvt) Ltd
Artistic Milliners is a leading denim and textile mill in Pakistan and since its beginning, Artistic Milliners has been one of the top companies in the global textile industry and has been leading denim innovation and sustainability.
They focus on automation, innovation, research, and sustainability. Artistic Milliners is a vertically integrated organization with its own dedicated spinning, denim, and garment manufacturing. While the headquarters are in Karachi they have an increasing global presence in Dubai and the United States.
Artistic Milliners' has the highest-rated LEED platinum facility in Pakistan as well as being the first in Pakistan to earn a FairTrade certification in the denim sector. They contribute greatly to exports in Pakistan with a total of $329.63m in exports in the 2020-21 financial year. As one of the largest denim exporters in Pakistan, Artistic Milliners has had an increase in exports with plans to expand to drive further growth.
4. Yunus Textile Mills Ltd
Yunus Textile Mills is a top-of-the-line vertically integrated textile mill in Pakistan and the largest exporter of home textiles in the country. With advanced technical support, strong infrastructure, and quality human resources, Yunus Textile Mills has secured a prominent position as a leading home textile exporter among Pakistan textile companies. Their turnover in sales reached USD 1.5 billion, supplying directly to major private and retail brands in the USA and Europe
5. Al Karam textiles
Al Karam is a prominent manufacturer and supplier of high-quality fabric for apparel, home, and industrial markets. With a vertically integrated operation, Al Karam caters to small, medium, and large-scale orders, distinguishing itself among textile companies in Pakistan. Their incredible global reach, extensive product variety, and multichannel distribution make Al Karam a unique textile mill in Pakistan and a key player in the global textile industry.
6. Nishat Mills Ltd
Nishat Mills Limited is one of the most modern and largest vertically integrated textile mills in Pakistan. They possess the most modern textile dyeing and processing units, including multiple stitching units for home textiles and garments. Furthermore, Nishat Mills contributes significantly to the country's exports, totaling about $307.32 million in 2021, solidifying their position among the prominent textile companies in Pakistan. The Company's production facilities comprise spinning, weaving, processing, stitching, and power generation.
7. Gul Ahmad Textile Mills Ltd
Gul Ahmad Textiles, listed on the Karachi Stock Exchange since 1970, enjoys a lead position in the textile industry in Pakistan. With state-of-the-art spindles, weaving machines, and the most modern yarn dyeing, processing & stitching units, Gul Ahmed is involved in the production of a wide range of textile products. Additionally, Gul Ahmad has a strong retail presence, with a vast chain of over 40 retail stores across the country, further establishing their prominence among textile companies in Pakistan.
8. Artistic Denim Mills
Artistic Denim Mills, similar to other leading companies in the industry, operates with a vertical setup and focuses on bringing unique innovations to the denim industry in Pakistan. They specialize in manufacturing premium denim fabrics and garments for high-end customers globally. Artistic Denim Mills prioritizes sustainability by using eco-friendly raw materials, green chemicals, and sustainable processes, positioning itself as an industry leader in sustainable denim production.
9. Liberty Mills
Liberty Mills Limited, located in Karachi, stands as one of the largest textile processing and production units in Pakistan. With a production and manufacturing capacity of about 500,000 square meters of fabric per day, Liberty Mills exports its products directly and indirectly to customers and vendors of internationally recognized brands, departmental stores, and mail-order firms.
10. AGI Denim
AGI Denim is a vertically integrated textile mill in Pakistan, operating on a massive scale across Karachi with 17 factories. They achieve high-quality production by deploying advanced automation technologies, sustainable processes, and expertise from local and foreign professionals. AGI Denim's active commitment and investment in energy and water-efficient machinery have resulted in four of their factories being LEED-certified, further solidifying their position among the leading textile companies in Pakistan.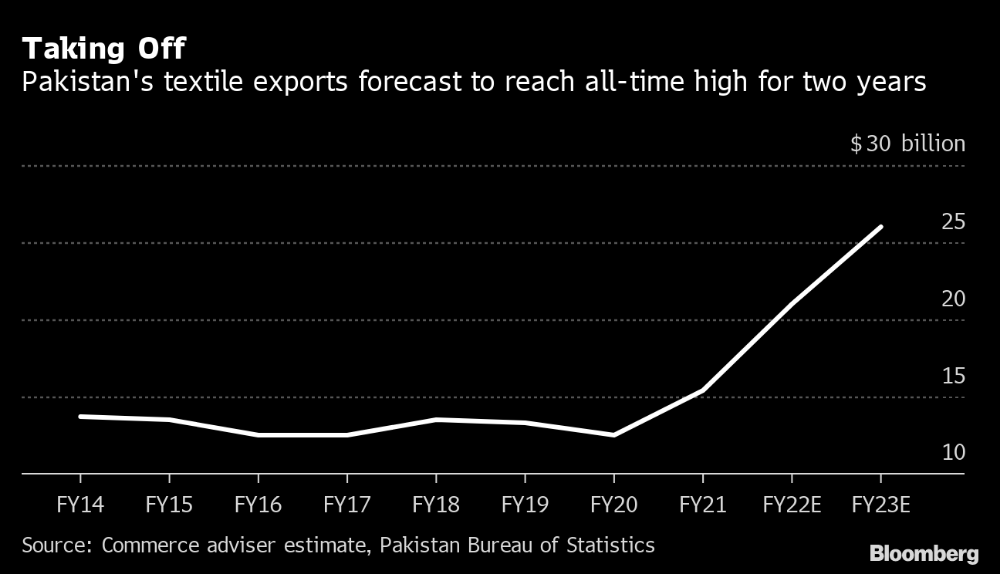 The textile industry's incredible contribution to the Pakistani economy necessitates support for the expansion of textile mills in Pakistan, which will further drive exports. However, certain challenges, such as the power crisis, fluctuating yarn prices, and consistent gas supply, pose potential obstacles that need to be addressed to ensure the industry's sustained growth. With constant support and a reliable gas supply, the textile industry can maintain its momentum in exports and continue to bolster the economy.
Zaraye - Revolutionizing the Sourcing Process for Textile Industry
If you are looking for efficient and fast delivery of textile raw materials and finished goods then worry no further! Zaraye is a one-stop solution that helps buyers get the best prices with ease and convenience. The Zaraye B2B app connects buyers directly to sellers to ensure smooth delivery of textile materials and exports so you can conduct your industry operations in the best possible way.